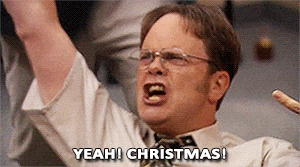 It's beginning to look a lot like Christmas! So it's time for you to prep your Christmas gifts for your loved ones. Here are some Christmas wishes, messages or quotes for your to include in your message card. 
Happy gifting! 🎉
---
35 Christmas Wishes, Messages & Quotes
May your holidays sparkle with joy and laughter.
Merry Christmas! Wishing you all the happiness your holiday can hold!
Wishing you a Christmas that's merry and bright! We hope you have a safe and relaxing holiday season.
Wishing you and your family health, happiness, peace and prosperity this Christmas and in the coming New Year.
New Year? Yes please! Here's to better times ahead for us all! Wishing you a very happy Christmas and a safe and healthy 2023.
Sending you all our love and merry Christmas wishes. We might be apart today, but you're always in our heart. Take care and stay safe in these uncertain times. We miss you!
I hope Santa is good to you this year because you only deserve the best. Merry Christmas from our family to yours.

There's only one thing better than Christmas and that's Christmas with you. Merry Christmas! 
"The thing about Christmas is that it almost doesn't matter what mood you're in, or what kind of year you've had–it's a fresh start." – Kelly Clarkson
Warmest greetings of this festive season and best wishes for happiness this New Year.
Gifts of time and love are surely the basic ingredients of a truly merry Christmas.
"From Home to home, and heart to heart, from one place to another. The warmth and joy of Christmas, brings us closer to each other." - Emily Matthews
In this loveliest of seasons may you find many reasons for happiness. Merry Christmas and lots of love from our family to yours!
You always made Christmas a special time for me. Now, I hope you can feel my love and gratitude from far away. Sending you my warmest wishes and blessings.
"The joy of brightening other lives becomes for us the magic of the holidays." – W. C. Jones
May the miracle of Christmas bring you joy and happiness. I wish you contentment and peace among you and your family. With Love, [your name]
The gift of love. The gift of peace. The gift of happiness. May all these be yours at Christmas.
Here's to a year of blessings and beyond. Have a Merry Christmas!
"The mood is right, the spirit's up. We're here tonight, and that's enough. Simply having a wonderful Christmas time." – Paul McCartney, "Wonderful Christmas Time"
Christmas is a time for family, food and fellowship. Wishing you nothing but the best that the season has to offer.
I know it's been an incredibly challenging year. Wishing you and your family brighter days ahead. Merry Christmas!
Let the comforting spirit of Christmas guide you into a blessed new year.
"Christmas is a season not only of rejoicing but of reflection." —Winston Churchill

Peace, love and harmony we wish to you and may love fill your home with blessings too. Happy Holidays.
Hoping that the new year brings you new opportunities and new possibilities
It's not what's under the tree that matters most, it's who's around it. Every year I'm so grateful to have you there.
May God bless your life with love and joy this holiday season.
The gift of love.
The gift of peace.
The gift of happiness.
May all these be yours at Christmas.
I hope your holiday celebrations are full of lots of fun, surprises, and magic!
"Christmas is like candy; it slowly melts in your mouth sweetening every taste bud, making you wish it could last forever." – Richelle E. Goodrich
If I could package my heart and send it to you for Christmas, I would. Since I can't, this gift & card will have to do.
A little more sparkle, a little less stress. This Christmas, I wish you the very best.
"It's the most wonderful time of the year. There'll be much mistletoe-ing, and hearts will be glowing when loved ones are near." – George Wyle and Eddie Pola, "It's the Most Wonderful Time of the Year"
Warmest wishes for a happy Christmas and a wonderful New Year. Thanks for being such a great friend.
May the magic of the Christmas season fill your home with joy and peace. Sending lots of love to your family, and looking forward to the day we can see you again. Take care of yourselves and stay safe.
---
Come and check out our Christmas & New Year Gifts Collection by clicking on the link below! 🎁