Father's Day is coming soon! Put together an awesome Father's Day playlist, complete with all the tunes that remind you of your superhero. Oftentimes, music is a powerful tool that can be used to convey emotions that words can't. What better way to spend this Father's Day by turning up the music and jamming out with your dad?
Here's a list of 10 best Father's Day songs to play with your dad! 👨🏼‍💼
1. "Daughters" by John Mayer
This beautiful song by John Mayer encapsulates the importance of fathers showing love to their daughters, so that they grow to accept love and have healthy relationships. 
Best lyric: " Fathers, be good to your daughters. Daughters will love like you do. Girls become lovers who turn into mothers. So mothers, be good to your daughters too"
2. "Song for Dad" by Keith Urban
Country superstar Keith Urban wrote this song highlighting the traits that he had inherited from his father. He demonstrates his appreciation and love for what his dad had taught him growing up. 
Best lyrics: "There were times I thought he was being just a little bit hard on me, but now I understand he was making me become the man he knew that I could be."
3. "Things Dads Do" by Thomas Rhett 
"Things Dads Do" is a heartfelt tune written by the singer and his father. Reflecting on fatherhood, the song pays tribute to Thomas Rhetts own father and to all the dads out there.
Best lyrics: "On your first broken heart, he'll say 'Son, tell you what let's talk it out over a beer.' And when you get married, he'll be your best man and pay for the booze and a bad cover band. And he'll give a long speech and say this was God's plan. And try not to cry, but he will."
4. "I Learned From You" by Miley Cyrus
Miley Cyrus and her father Billy Ray Cyrus collaborated on this catchy tune in 2006. The song entails learning a lot from someone even when there are times where we do not wish to listen to them at all.
Best Lyric: "I learned from you that I do not crumble. I learned that strength is something you choose, all of the reasons to keep on believing. There's no question, that's a lesson that I learned from you. 
5. "Dance With My Father" by Luther Vandross
"Dance With My Father" is a great song about dads. The singer wrote this song as a tribute to his late father and it's lyrics are absolutely heart-warming.
Best lyric: "If I could steal one final glance, one final step, one final dance with him, I'd play a song that would never ever end. Cause I'd love to dance with my father again."
6. "He Didn't Have to Be" by Brad Paisley
This melodious tune follows the story of a young boy who is thankful for the love he had received from his stepfather. It highlights the idea that love can not be bounded by blood. 
Best Lyric: "Lookin' back, all I can say about all the things he did for me is I hope I'm at least half the dad that he didn't have to be."
7. "Daddy" by Beyoncé
Beyoncé delivered this beautiful ode as a daughter to her father, Mathew Knowles. The song captures a daughters emotions are she navigates her life with the help of a fatherly figure. 
Best Lyric: "You've given me such security, no matter what mistakes I know you're there for me. You cure my disappointments and you heal my pain. You understood my fears and you protected me. Treasure every irreplaceable memory and that's why I want my unborn son to be like my daddy."
8. "My Little Girl" by Tim McGraw
This country hit by Tim McGraw is filled with rich sentiments of fatherhood. It is a captivating tune filled with heartfelt vignettes that could bring tears to your eyes. 
Best lyric: "I remember I thought you looked like an angel wrapped in pink so soft and warm. You've had me wrapped around your finger since the day you were born."
9. "Fathers & Daughters" by Michael Bolton
As the title implies, "Fathers & Daughters" is a song about the everlasting bond between a father and his daughter. 
Best lyric: "Like moonlight on the water, and sunlight in the sky / Fathers and daughters never say goodbye."
10. "Ready, Set, Don't Go" by Billy Ray Cyrus ft. Miley Cyrus
"Ready, Set, Don't Go" beautifully narrates the bittersweet feeling of watching your child grow up and chase after their dreams. The father-daughter duo takes turns singing in this tuneful songs from both perspectives. 
Best lyric: "Looks like she's all ready to leave, nothing left to pack. There ain't no room for me in that car, even if she asked me to tag along. God I gotta be strong.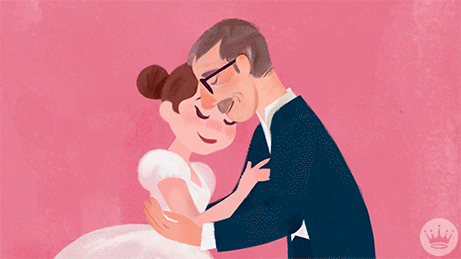 - Gifting Made Easy -
---
Come and check out our Father's Day Flowers & Gifts Collection here by clicking on the link below! 🎁